Community Stewardship
Eagan Foundation
Posted: April 18, 2018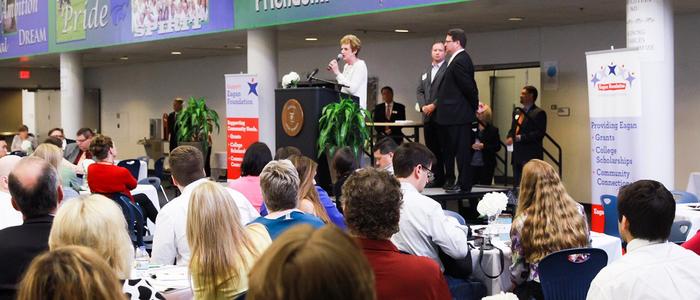 Gopher Resource Funds STEM Scholarships Through Eagan Foundation
For over 25 years, Gopher Resource has sponsored scholarships to high school graduates who reside in or attend school in Eagan, MN, through the Eagan Foundation. Scholarships are sponsored by businesses, organizations, family foundations and nonprofits. Gopher Resource's scholarship focus is supporting students in the science, technology, engineering, mathematics or environmental disciplines who show strong community involvement.
The 2018 recipients of the Gopher Resource scholarships are Savannah Willard from Trinity School of River Ridge and Adam Harrold from Eagan High School. Savannah is planning to study Wildlife Biology and Classics at Hillsdale College. Her talents and/or hobbies include writing and reciting poetry, taking walks in nature, rollerblading, running, swimming, and grabbing coffee with friends. Adam is planning to study Physics and Computer Science at Northwestern University. Adam's talents and/or hobbies include playing seven different instruments, singing, acting, playing ultimate frisbee, Boy Scouts, and leading various academic organizations. Gopher Resource congratulates both Savannah and Adam and wishes them well as they begin their college educations.
Gopher Resource is also a sponsor of the Eagan Foundation and their annual fundraiser, A Taste of the Eagan Foundation. Proceeds are used to fund the Foundation's initiatives through the year, including collaborative action to meet community needs. The Foundation has awarded over 1.3 million dollars to over 1,500 Eagan students through college scholarships and over $64,000 in local initiatives and community grants.  In 2018, the Foundation reached a new annual record with $138,000 in scholarships to 124 scholarships from various financial, academic, cultural and athletic backgrounds. This is the sixth consecutive year of awarding over $100,000 in scholarships to area high school seniors.
Previous Gopher Resource Scholarship recipients include:
2017 - Mackenzie Thelen and Shayla Luck from Eagan High School. Mackenzie planned to study Environmental Studies and French at the University of Wisconsin – Madison. Her talents and/or hobbies include singing, dancing, acting, writing, public speaking, and sewing. Shayla planned to attend Montana State University. Shayla's talents and/or hobbies include volunteering at the human society, eating healthy, running, and engaging in community work.
2016 - Akin Campbell from Eagan High School. Akin planned to study Computer Science. His talents and/or hobbies include programming and a little-known fact is that he created his own app.
2015 - Sydney Ward from Eagan High School. Sydney planned to attend the University of Minnesota to study Biology. One of her favorite high school memories was when the National Art Honor Society helped make buttons with special needs students in Wildcat connection.  
2014 - Scott Fisk from Eagan High School. Scott planned to attend Iowa State University, studying computer engineering. Some of his hobbies include Web development/design, programming electronics, science and piano.