Continuous Innovation
Advanced Facility and Process Monitoring
Real-Time Operational Monitoring and Control Puts Quality, Safety and Communication at Our Fingertips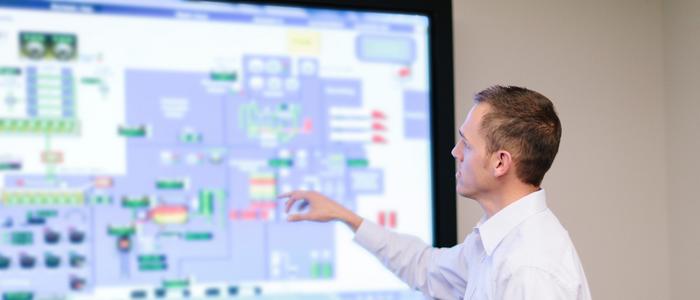 Achieving the highest quality means maintaining the highest level of operational control. For over 20 years, Gopher Resource has been visionary in pushing the boundaries of advanced control system technology for environmental, health, safety and quality management. The result? Continuous environmental and operational improvement and optimal product quality.
Gopher Resource must follow strict environmental and safety regulations – while meeting clients' strict quality standards and custom specifications. This requires the ability to control our plant settings from any location, at any moment. To do so, we pair a supervisory control and data acquisition system (SCADA system) with programmable logic controllers (PLCs).
This integrated and advanced technology system lets us see and monitor facility operations in real time. Our plant operators can view processes via wireless applications, such as iPads and cellphones. In addition, the system can warn employees when an operational system is approaching outer limits of optimum quality, safety or efficiency so we can adjust to stay within specifications. Communication and control is instant and precise.
This system also supports our continuous improvement function by collecting all operational data for analysis. Our Eagan facility stores over 5,000 data points per second and Tampa over 11,000. Our environmental, health, safety, engineering, quality, continuous improvement and management teams analyze this data carefully. By extracting past operational conditions, we're able to monitor against benchmarks and improve performance across the board.