Newsroom
Gopher Resource and Dakota County Celebrate 20 Years of Recycling Success
Posted: June 09, 2014
County Renews Long-Standing Partnership with Gopher Resource for Operating The Recycling Zone Through 2018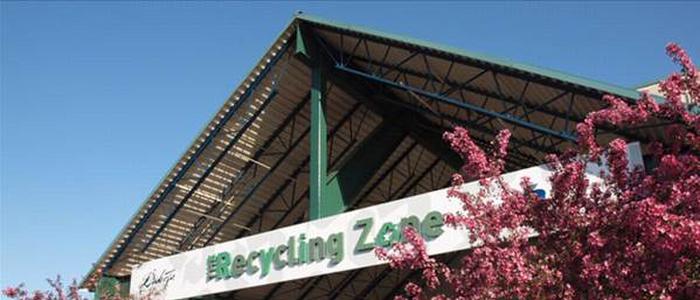 Gopher Resource LLC of Eagan will continue operating The Recycling Zone in Dakota County. The county recently renewed its contract with Gopher Resource through 2018, based on The Recycling Zone's operational success and expected growth. It is the second largest household hazardous waste and recyclables facility in the state, with one of the lowest cost-per-vehicle operating ratios. Gopher Resource has operated the facility since it opened in 1993.
In 2013, nearly 51,000 people dropped off 3.6 million pounds of hazardous waste (1.7 million pounds were electronics). The facility also collected over 1 million pounds of steel, plastics, glass and paper recyclables. In addition, The Recycling Zone has helped facilitate the reuse of 235,000 pounds of paint, cleaning supplies and other materials.
According to Daniel Leach, chief business development officer for Gopher Resource, the community deserves high praise for making The Recycling Zone the success it is. "We now have more people visit The Recycling Zone in an average month than we did in an entire year when it first opened. The facility is truly a great example of how local citizens, the government and private business can collaborate to create an environmentally sustainable future for all."
About Gopher Resource LLC
Minnesota-based Gopher Resource is a national environmental solutions provider and a leader in its field. Founded in 1946, the privately held company uses some of the most advanced technology available today to recycle spent automotive, industrial and stationary batteries and select household waste in a safe and sustainable manner. Gopher Resource employs over 600 people at recycling facilities in Eagan, Minnesota and Tampa, Florida.
About The Recycling Zone in Dakota County
The Recycling Zone provides safe, convenient recycling of household hazardous waste, household electronics and general recyclables, most at no charge to residents. Gopher Resource helps operate an on-site community classroom where school and community groups can learn the benefits of earth-friendly practices. For materials accepted, directions, hours and tour information, visit The Recycling Zone .
Schedule a Tour
Learn how The Recycling Zone operates and the importance of earth-friendly practices.
Learn More