Newsroom
Mark Andren Retires from The Recycling Zone
Posted: July 14, 2016
Mark Andren, Recycling Zone Lead Person, retires from Gopher Resource after 39 years of dedicated service.  His last day with the company was Thursday, June 30, 2016.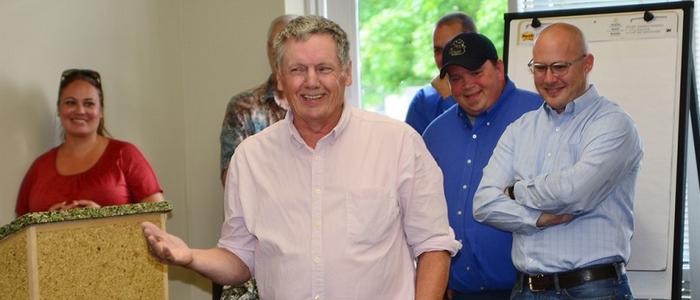 Mark originally joined Gopher Resource as a plant operator in 1977, where he was one of only thirty employees working for the company. He spent time working in all
areas of the plant until he was promoted into a Lead Person role. In 1993, Gopher Resource began The Recycling Zone program, originally referred to as the "Eco-Site". Mark was the perfect employee to help launch the program and became the program's first and only employee.  Over the years the program continued to grow in size and in services offered, now being managed by 4 full-time workers and 12 part-time student workers. Currently the site has almost 60,000 customers annually, and provides valuable recycling services that collect over 4 million pounds of hazardous waste from the community every year. Mark has played a pivotal role in building a strong presence in our local community and has overseen over 80 part-time student workers in his years of leadership. Gopher Resource would like to thank Mark for his many years of service and wish him well on his retirement.
The Recycling Zone is now being managed by Mike Hewitt, a 3 1/2 year employee with Gopher Resource and the new Recycling Zone Supervisor.  The next time you stop by The Recycling Zone, please come in and say hi to Mike, who we hope will be around until his 39th anniversary.
About The Recycling Zone
For over 20 years, Gopher Resource has operated The Recycling Zone in Dakota County, a community recycling center located adjacent to our Eagan campus.  The center provides safe, convenient recycling of select household waste, electronics and general recyclable items that would otherwise load up landfills.