Our Facilities
Tampa, Florida
Our facility in Tampa provides advanced battery recycling services and hundreds of green jobs for citizens throughout the Tampa region.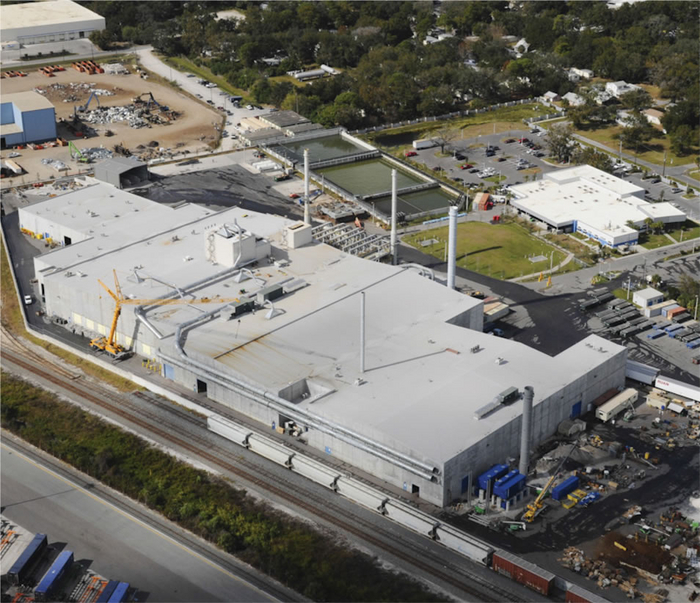 Storm and Process Water Collection
This pond can hold millions of gallons of storm water runoff for reuse.
Battery Recycling
Our Tampa facility keeps nearly 12 million spent lead batteries from landfills annually.
Administration/Safety
This building contains 20% recycled construction materials, electrical charging stations and many other green features.
About This Facility
Gopher Resource acquired the Tampa facility in 2006 and since then our Tampa employees have kept an estimated 75+ million lead batteries out of landfills. We are committed to our employees, the Tampa community and the environment.
Since the acquisition, we have invested more than $230 million into our Tampa facility, of which $140 million was focused on protecting the health and safety of employees and environmental protection.
Our team in Tampa has grown to nearly 300 hardworking people. We are proud of our plant and our people, and most importantly, the service that we help provide for our environment.
For more information about this facility, click here.
Recycling Facility Facts
21-acre site
The capacity to recycle 50,000 automotive batteries per day (13 million annually)
Recycling of other lead-bearing materials
Produces recycled pure lead and numerous specialty alloys
Safety and Hygiene Program Highlights
Robust COVID-19 Response Plan
8,000 hours of employee training annually, most of which is safety focused
Company-provided personal protective equipment, uniforms and boots
25% of our operating budget goes to health, safety and environmental stewardship
12% of our workforce is devoted to ensuring employee health, safety and environmental protection
We're proud of our Tampa team, our Tampa facility and the critical role we play in ensuring that the recycling of lead batteries is managed in a safe, clean and environmentally responsible way.
Around the Community…
Community
Gopher Resource supports the Hillsborough Education Foundation and its dedication to ensuring every student receives a high-quality education.
Read More