Our Facilities
The Recycling Zone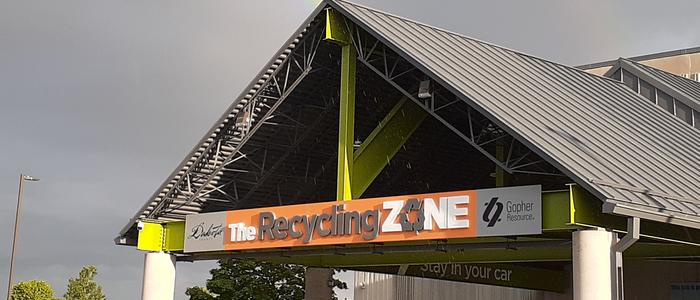 The Recycling Zone and the Reuse Zone
Please follow the procedures outlined below when dropping off items. 
Drop-off Procedures
Remain in your vehicle at all times.
Masks are strongly encouraged for those who are not fully vaccinated against COVID-19.
Have your ID ready. Staff will need to scan the barcode on the back of your license.
All items except sharps must be in the trunk or very back of the vehicle to be unloaded by staff.
Keep your sharps container near you in the front seat. You will be required to put the container into a large sharps bin while staying in your car. 
Ensure your items are labeled with secure lids in an upright position and transport in a box or container you can leave behind.
Gas cans and oil containers you would like returned will be tagged with a unique ticket number and you will need to come back the following day with your ticket stub to pick up after it has been emptied. 
Flatten cardboard and cut it to be no larger than 3 feet by 3 feet.
Please be patient. 
Please have a credit card or exact change ready for fees on TVs, monitors and tires. TVs and monitors have a $10 recycling fee and tires vary by size starting at $5. All other items are accepted for free. 
Reuse Zone Procedures
The Reuse Zone is open with the same business hours as The Recycling Zone. Free products are available to residents for reuse. Visitors must follow these rules:
Masks are strongly encouraged for those who are not fully vaccinated against COVID-19.
Bring a box or bag for your items, if needed.
Maximum room occupancy of six visitors.
Maintain a 6-foot distance from others while inside and waiting in line.
Be patient if you need to wait outside for your turn.
You have 10 minutes to shop, although you may get back in line if you want to shop more.
No opening or spraying products.
​Only take items you will use, so product is left for others.​
The Reuse Zone is closed briefly during the day to restock the shelves. The public restroom is closed.
Your Backyard Is Our Backyard, Too
That philosophy has fostered a long-standing partnership between Gopher Resource and the county where we are headquartered.
For the past 29 years, Gopher Resource has operated The Recycling Zone in Dakota County, a community recycling center located adjacent to our Eagan campus. The center provides safe, convenient recycling of select household waste, electronics and general recyclable items that would otherwise load up landfills. Most materials are accepted at no charge to county residents and businesses.
Materials Accepted
Household hazardous waste – aerosols, paints, batteries, etc.
Reusable products – lawn and garden products, paint, cleaning products, etc.
Recyclables – aluminum, cardboard, glass, plastic, scrap metal, paper, etc.
Household electronics
For a full list of materials accepted and associated fees, please see The Dakota County Recycling Zone website. 
Operating Hours
The Recycling Zone is now open with new procedures.  
Wednesday 9 a.m. – 8 p.m.
Thursday noon – 8 p.m.
Friday 9 a.m. – 5 p.m.
Saturday 8 a.m. – 5 p.m.
Quick Facts (annually)
The Recycling Zone is Minnesota's second-largest household hazardous waste and recyclables facility, with one of the lowest-cost-per-vehicle operating ratios.
Serves over 75,000 residents and businesses
Collects nearly 3 million pounds of hazardous waste
Collects over 1.5 million pounds of aluminum, plastics, glass and paper waste
Diverts over 1.2 million pounds of electronics from landfills
Facilitates the reuse of nearly 300,000 pounds of paint, cleaning supplies and other materials
Around the Community…