Community Stewardship
DARTS
Posted: November 29, 2015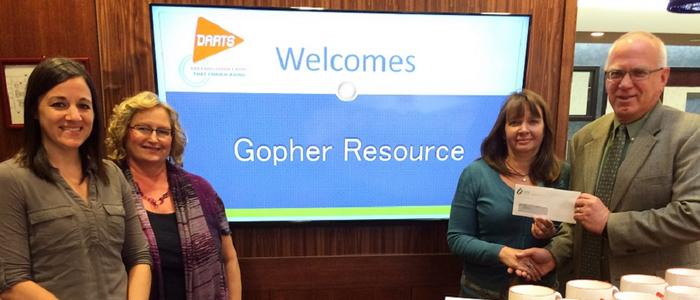 Gopher Resource Supports DARTS Through Employee Fundraiser
Gopher Resource organized an employee appreciation event including several raffle drawings, with proceeds raised going to programs at DARTS.  The planning committee wanted to support an organization that focused on helping the elderly, a group that is sometimes forgotten in community donations and expected to outnumber children and teenagers in the near future.
DARTS, located in West St. Paul, Minnesota, connects people to services and partnerships that improve quality of life, help them age well, and enable them to engage in their community.  In 2014, some of DARTS services provided included:
230,000 rides were provided for seniors, people with disabilities and community members.
4,400 people relied on DARTS for rides.
249 seniors received outdoor chore services.
293 Caregivers were supported by DARTS services.
3,100 students were helped with reading, math and science by Learning Buddies.
1,017 volunteers served in homes, schools, and the DARTS office.
Raffle prizes for the fundraiser were donated by Gopher Resource and the money raised from the employee raffles was donated to DARTS to support their many community programs.  "It was super fun and rewarding to be a part of delivering the check to DARTS and to be a part of the entire event," said Jan Cummings, executive assistant for Gopher Resource and a member of the planning committee.