Community Stewardship
The Recycling Zone in Dakota County, Minnesota
Posted: July 01, 2021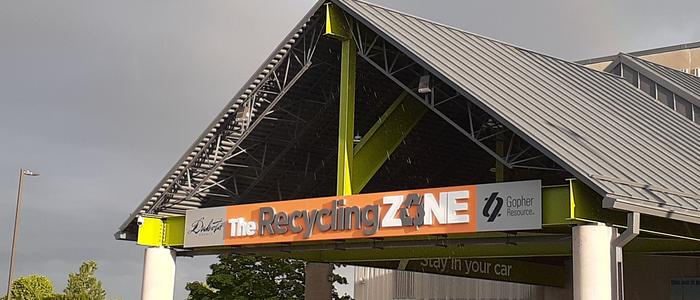 The Recycling Zone of Dakota County Provides Convenient Community Recycling
Gopher Resource has operated The Recycling Zone in Dakota County, Minnesota, since it opened in 1993. The facility provides recycling and household hazardous waste collection – most at no charge – for surrounding residents and small business. With more than 70,000 visitors annually, the facility is
a powerful example of how local citizens, the government and private business can collaborate for long-term environmental good.
You've heard of one-stop shopping. Now, there's one-stop dropping – at The Recycling Zone. The updated Recycling Zone includes a new drop-off process that allows residents to stay in their vehicles. With a driver's license or identification in hand, drivers first stop at an exterior kiosk to have their card scanned. From there, drivers are directed into a specific drop-off lane where staff unload vehicles. NOTE: Items must be in bags or containers residents are willing to leave behind.
In 2019, The Recycling Zone collected nearly 3.3 million pounds of hazardous waste of which 1.3 million pounds were electronics. The facility also collected over 1.3 million pounds of aluminum, plastics, glass and paper recyclables. In addition, it has helped facilitate the reuse of over 425,000 pounds of oil and latex based paint, cleaning supplies and other materials.